Elcom International Pvt Ltd
Specialist for Electromechanical and Electronic Components.
Elcom International is a leading Manufacturers & Supplier of Electromechanical and Electronic components in India.
Precious Electronics Pvt Ltd is Authorized Distributor of Elcom International Pvt Ltd Products in India.
Elcom has developed its strength in the design, development and manufacturing of a wide range of products in line with the customer's requirement, encompassing major OEMs globally. The company has been a pioneer in this sector in India, leveraging its experience, knowledge and legacy since 1981 in electronic and electromechanical technology. Its current facility strategically located in Kolhapur along the Mumbai-Bengaluru expressway corridor in Maharashtra, India is spread over an area of 4 acres.
At Precious Electronics Pvt. Ltd.
We provide following Elcom Internation Pvt Ltd products: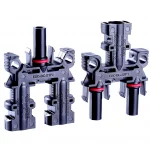 Electromechanical Components
Switches
DIN Connectors
IEC Power Entry Components
EMI/ RFI Filters
Power Socket Adapters
Fuse Holders
Power Cords
PV Branch Connector
PV Cable Connector
PV Module Junction Box
Basic Rack-PDU
Intelligent PDU
Smart Devices For Data Centres
APPLICATIONS:
• Automation
• Power Electronics
• Medical Electronics
• Instrumentation
• Data Centres
• Telecom
• Industrial Electronics